The warmer weather means more opportunities for one of my favorite styles of photography: macro images of flowers. With a dedicated macro lens (or specialized filter), you have the means to create some artful photographs using only the environment your backyard provides.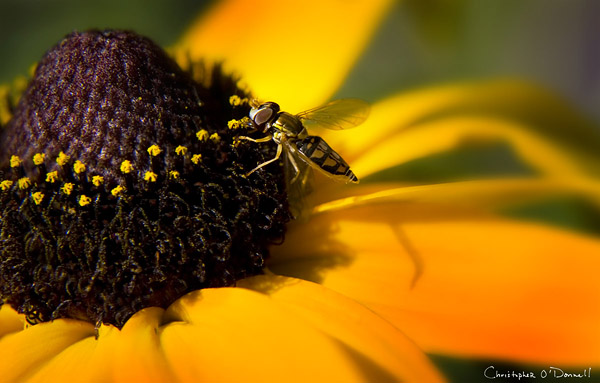 Lighting for Macro
Like most areas of photography, light can drastically change how your image appears.
Overcast vs. Direct Lighting
Overcast lighting has the ability to saturate an image while providing smooth and gradual light, eliminating harsh highlights and distracting shadows. This can be greatly beneficial to flower images as color is an important aspect here.
Also keep in mind that many overcast days can be accompanied by rain and mist, which can add to the moody atmosphere this lighting provides.
In contrast, macro flower images taken during the "golden hours" – at sunset or at sunrise – can heighten the artful quality and create a warm and inviting mood to your photo. While your image will most likely lose its true-to-nature colors and tones, it's typically outweighed by the unique light cast by the sharp angle of the sun.
Lighting Tips
If you're going to shoot under the sun, avoid the midday hours. This will cast a harsh and unflattering light – not to mention the flattening effect direct overhead sunlight has.
Also note that although you could be shooting with a wide aperture, you'll typically be in a darkened environment – for example, shooting under large leaves, in between flowers, etc. This can affect your shutter speed and cause some unwanted camera shake/blur.
Additionally, if you're shooting with a dedicated macro lens, you'll probably be using a higher-than-normal f/stop to get the entire flower in focus. This, combined with the point above, can create very unstable shooting conditions where you may have to bump up your ISO to get a sharp image.
Composing Your Image
When you're choosing how to frame your photo, try to explore different vantage points. Typically, macro flower images are captured at eye (or plant) level, which doesn't set the stage for a unique photo. Instead, try standing directly overhead – or alternatively, get down low and shoot up towards the sky.

Lily Macro Retouched by C. Young Photography, on Flickr

Flowers Against Sky by CeeKay's Pix, on Flickr
You'll be surprised what you can find with your camera if you change your perspective a bit.
Depending on what you want to accomplish, it might help to include other flowers in your background instead of singling out just one. Since you're working with a wide aperture – or at least a depth of field shallow enough to blur the background – your focal point will remain sharp and stand out from the rest of your image.
Speaking of which, you should always pay attention to your background as the colors and shapes can greatly affect the strength of your image. While you may be limited to a certain location, nothing is stopping you from exploring your surroundings. Spend a bit of time looking around and choose the best vantage point for your intentions.
Technical Tips
Working on the macro level has a unique set of rules, especially on focusing correctly. Please read the manual focusing section of my macro photography article by clicking here – this will help to get you familiar with working in a macro.
Replicating Mist and Water Droplets
A great technique to use when photographing flowers is to use a water spray bottle to replicate morning mist. This works fantastic when combined with a wide aperture – it provides the setting for great reflective bokeh and other interesting light patterns.
If you want to take this technique to the next level, you can add some glycerin to your water solution. This inexpensive additive will not only make your droplets larger and more profound, but they will take longer to evaporate and won't drip down the petals.
You're really only limited to your imagination with this technique – try to experiment with different solutions and light sources. Professional macro photographers use additives such as glitter or even white eyeliner, so your options here are virtually endless.
Changing the Background
Since you're working in a miniature environment, you can easily manipulate your surroundings. Try using reflective wrapping paper or other inexpensive, patterned backdrops for your macro images. By using complementary (or contrasting) colors, you can greatly change the mood of your image.
Macro Filters
If you don't have a dedicated macro lens at your disposal, you can easily replicate this process inexpensively. A macro filter added to a prime lens can be just as successful in your macro ventures as the higher-priced dedicated lenses – and still, be on a 1:1 magnification level.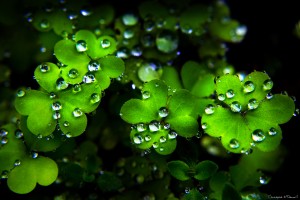 The photo above, taken by me with a +10 macro filter and the 50mm f/1.8 lens, recently placed first in the Outdoor Photographer Magazine Nature's Colors competition.
Macro photography can be an artful representation of a common subject. Don't feel limited by the guidelines set forth above – the magnified environment you're now working with provides you with the means to create a truly unique image. Experiment with different combinations of light, aperture, and vantage points and you'll find yourself with photos you never thought possible!
——————–
Read more great articles by Christopher O'Donnell on his website or follow him on Facebook.