Keywording is a tool to assign or tag meaningful words to your photos so people searching may find them. I often think of stock photography when I hear the word "tag" or "keyword" because it's an important step in that industry — allowing photo buyers to find appropriate images. Although this is the case, adding keywords to your photos is also important in building your exposure on the web. Most online photo sharing sites, search engines, and web galleries use keyword recognition to help people find your images.
Keywording photos can be a time consuming endeavor, but it should still be included in your workflow if it is not already. There are programs that help you select words (just do a search on Google for "photo keywording tools") but the best way I have found is to brainstorm and figure them out on my own. Every photo is unique and should be given time for tagging appropriate keywords. The great thing about digital photos is we only need to add keywords to our images once. By saving keywords to our photos' metadata we are essentially storing them for use at anytime in the future.
Types of keywords:
Location – Describes the actual location of the photo. Start with a region of the world and work your way down to the city or town. (Ex: Asia, Southeast Asia, Philippines, Mindanao, Surigao del Sur, Bayabas)
Conceptual – These are words that describe moods, emotions or ideas associated with an image.
Descriptive – Keywords describing what is actually happening or shown in the photo.
Not all photos will need to be tagged with every type of keyword. It will depend on each individual photo and what you feel people will search for to find that image. Put yourself in the searchers shoes and think about what they'd type into a search field box to come by your pictures.
Examples: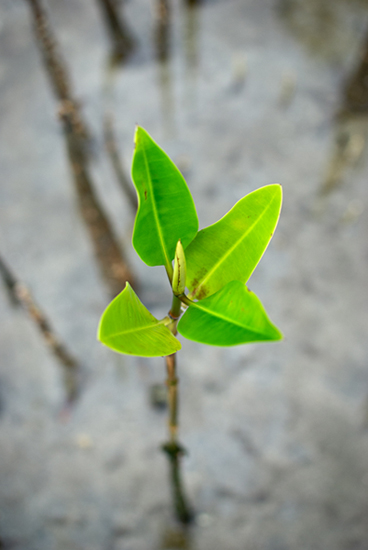 Title: Mangrove Seedling
Description: A single mangrove seedling in its coastal environment.
Keywords: alone, Asia, beginnings, environment, Flora, future, growth, hope, leaves, new, nursery, Philippines, plants, progress, single, Southeast Asia, ocean, coast, coastal, tree, seascape, grow, branch, renewal, new life, prosperity, seedling, infancy, mangrove, salt water, sapling, estuary, awakening, Mindanao, Bayabas, Surigao del Sur, mangrove habitat, coastal environment, mangrove swamp, mangrove forest
Title: Children silhouette playing in ocean
Description: Children playing on a boat anchor rope, Malapascua Island, Cebu, Philippines.
Keywords: Asia, carefree, childhood, children, energy, enjoyment, friendship, fun, innocence, leisure, partnership, people, playful, playing, recreation, relaxation, silhouette, Southeast Asia, sunset, togetherness, tropical, Happiness, boy, game, child, lifestyle, ocean, shore, coastal, beach, play, girl, seascape, island, joyful, backlit, salt water, Human relationships, archipelago, Cebu, island life, Visayas, Malapascua, Philippines, island lifestyle, Pacific Islands, Malay Archipelago
I often find myself looking other places to help me discover relevant keywords for my images. I almost always look to Wikipedia for suggestions, especially for those location and descriptive keywords. I will also sometimes visit a thesaurus or just simply do a Google search on the particular topic to see if any other important words stick out to me.
Using Lightroom to Organize and Add keywords:
The Library Module in Adobe Lightroom gives photographers some fantastic tools to organize and add metadata to their photos. Within this module Lightroom as developed a structured and time saving method to add keywords – the parent/child hierarchy method. By organizing your photos in this hierarchy manner when you apply a child keyword to your photo the parent keywords are also applied. Lightroom makes it easy to move your child and parent keywords around and automatically updates your photos.
To create a child keyword within a parent, right-click on the parent and select "create keyword tag inside." The number on the right hand side indicates how many photos in your collection are tagged with that word.
By spending some time in Lightroom you will see how easy it is to manage your photos keywords. I have found that by being more organized in Lightroom I am willing to take a little more time to add the appropriate keywords to my images.
Jacob Maentz is a freelance travel, culture and documentary photographer currently based in the Philippines. You can visit his website here, read his articles on his blog, follow him on Facebook or Twitter.