Many of us love to share our images. Facebook, Twitter, Instagram or even by "old fashioned" email, we want our friends and peers to see and relate to our work. Problem is, with all this sharing, we are in danger of losing ownership of our images, especially if you shoot the originals in JPEG.
There is a way however to embed some of your personal details into your shots, both in camera and in post production. Whilst this is not a 100% failsafe way of making sure your ownership is maintained (metadata can be stripped from images) it can reduce the problem and help to track where your images are being shared. So lets look at some of the options.
In Camera: Virtually all cameras these days allow you to embed your name and a copyright logo into your images. This will be embedded into the metadata of jpeg files and RAW files and although only a relatively simple phrase can be added, it is none the less useful. The exact way to embed your data will depend on your camera but in most cases it will be done from the menu system on the camera's LCD screen. Typically it will be found under Setup – Copyright Information.
You will be able to add your full name, a copyright symbol and in some cases a license term such as All Rights Reserved. This information will be embedded into every image you take and will be found in the EXIF data under Copyright Information.
In Post Production: Whilst you can add your name and copyright details in camera, you can add much more in post production. We will take a look at how to do this in two typical applications that photographers use, Lightroom and Photoshop. The process will be similar in other editing apps too.
Lightroom: Because Lightroom is an image management program we can not only embed individual pictures with our details but also add it to multiple images at a time or even all image upon import. This is based on the latest version of Lightroom but is similar for older versions.
To add your personal details on import you need to open the import dialogue from File – Import Photos and Video. We then select the drive, folder and images we wish to import. At the top right of the import window, click the gear icon. We will create a new preset that can be applied to all imported images now and in the future. To do this under Metadata Presets, click New.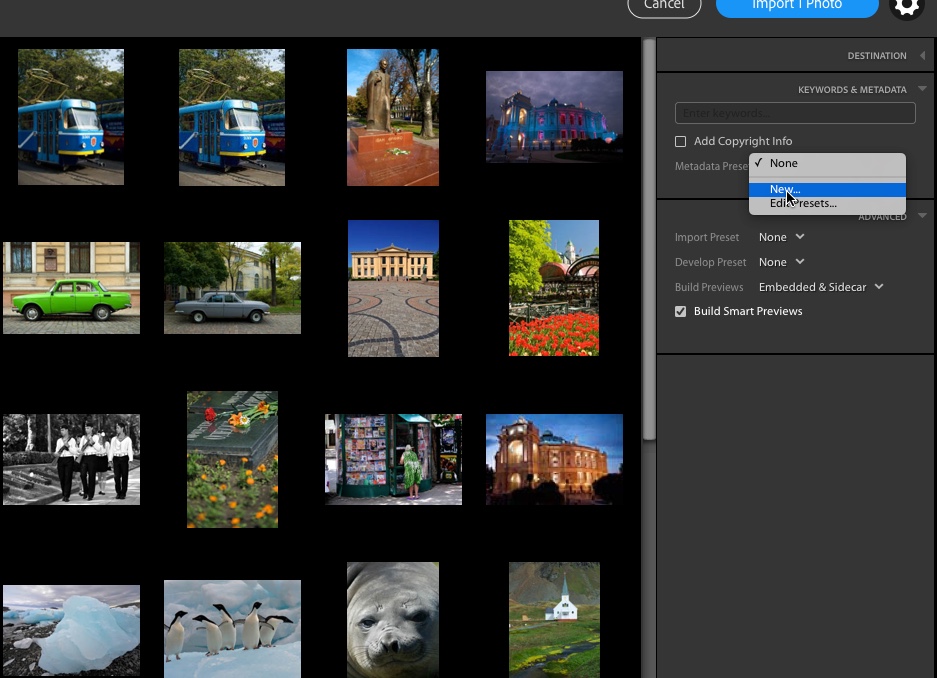 A Metadata window will open and we can now add information such as Copyright Owner, Status, Terms and a URL. We can also add, under IPTC Creator, full contact details including address, phone, email and website. Give the preset a name and click create. Now whenever we import, we can use this preset to add this data to all images.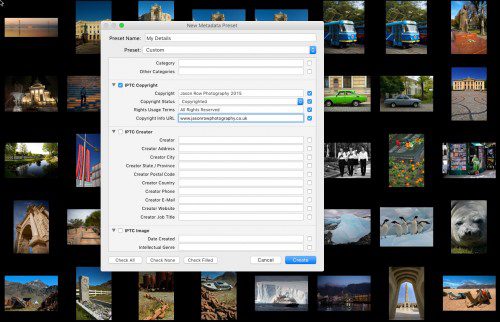 To add details to an image already imported, we can use this same metadata preset. To do this simply right click on the image or a selection of images add select your preset from Metadata Presets.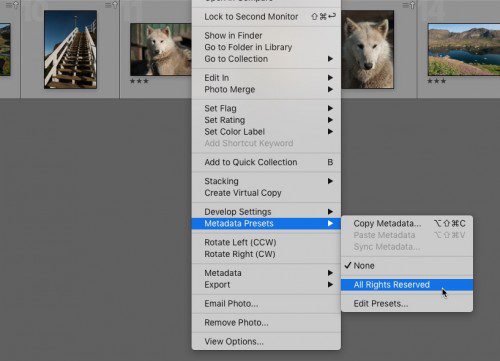 Photoshop: In Photoshop, we are restricted to adding the data to one image at a time. To do this, with your image open in Photoshop go to the menu, File – File Info. A full metadata window will open. Like in Lightroom we can create a preset to save us the time typing the same information time and time again. The presets are called templates and can be created by adding your information to the metadata window you just opened, then going to the bottom and selecting Template – Export. Give the template a name then save it somewhere you will know where to find it. The root of your images folder would be a good place. Now whenever you want to add that basic contact/copyright detail to an image, you simply open the File Info window and from the bottom select Template – Import and navigate to the folder where you saved that template.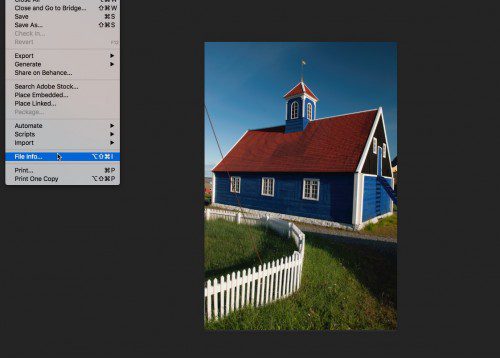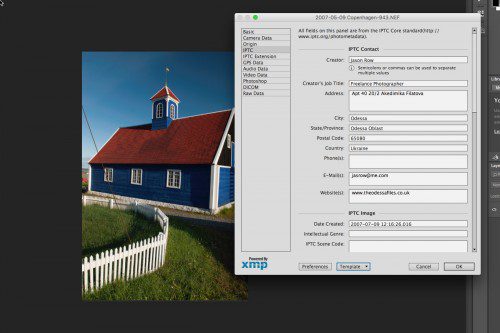 Like Lightroom, the metadata table in Photoshop is extensive but the key personal information and copyright details can be found under the Basic and IPTC tabs.
Embedding copyright data to your images is not a failsafe way of protecting them but it is an additional layer of protection. It helps legitimate users track you down and ask for permission and usage rights before publishing and helps you monitor where your shots are being used. One further tip, if you shot RAW files, use this as your Digital Negative. If you never give away your RAW files, you have the original, virtually indisputable version of that image.