Today we have a guest article from David Chesterfield. David is a light specialist. His amazing light orbs, steel wool photography, light painting, astrophotography, and water drop photography is all out of this world.
It is definitely worthwhile following David on Instagram to see his visually stunning work.
Only recently I was introduced to the concept and practical applications of Low Level Landscape Lighting (LLLL for short). It was with a group of photographers on a light painting shoot. One of the attendees produced an LED video light to use it in some of the images.
What is Low Level Landscape Lighting?
LLLL is a technique often used by AstroLandscape photographers to light the foreground in their astro images.
At its most basic Low Level Landscape Lighting is the use of a gentle light source to provide detail into landscape features – detail that would otherwise be silhouetted against the night sky, or potentially not show up at all in the images.
As a light painter who has also played with a little astrophotography, I have often used a flashlight to illuminate the scenery. Either the background for my light painting images or foreground for astro images.
The downside of a flashlight is that it is hard to get even illumination across the image. This results in hot-spots and dark areas. By way of contrast, LLLL gives a lovely soft light, more evenly across the image or parts of the image you wish to illuminate.
You can clearly see the difference between the images above and below.
So what sort of light do you need?
Any LED light source that throws a flood type beam will work. In the first image, we were using an Apature Amaran AL-H198.
I also have a Yongnuo YN-360 that will be ideal, however, I left it at home on a recent weekend away.
Fortunately, I always carry a few of these little battery powered lights in my kit bag.
They proved to be a great light source, though the ability to dim them would be advantageous! They were just a little bright for some spaces. You can buy these units for a few dollars each on eBay.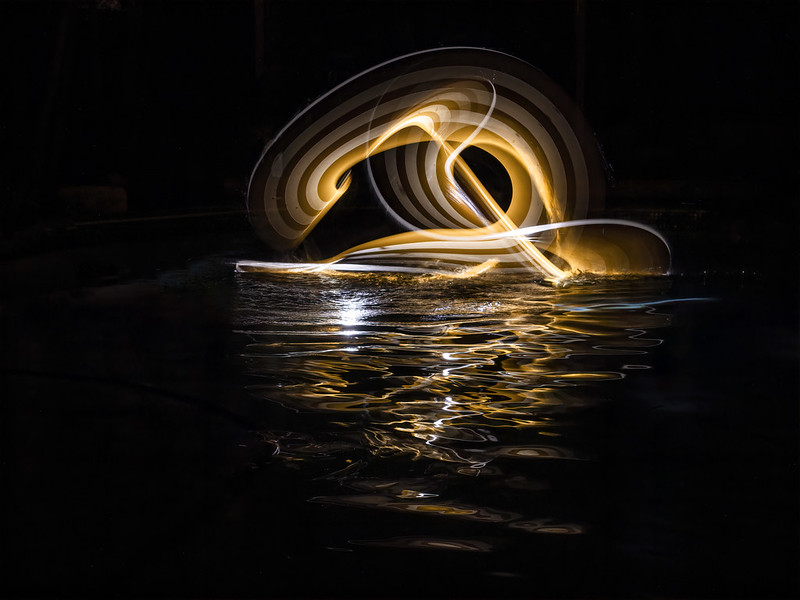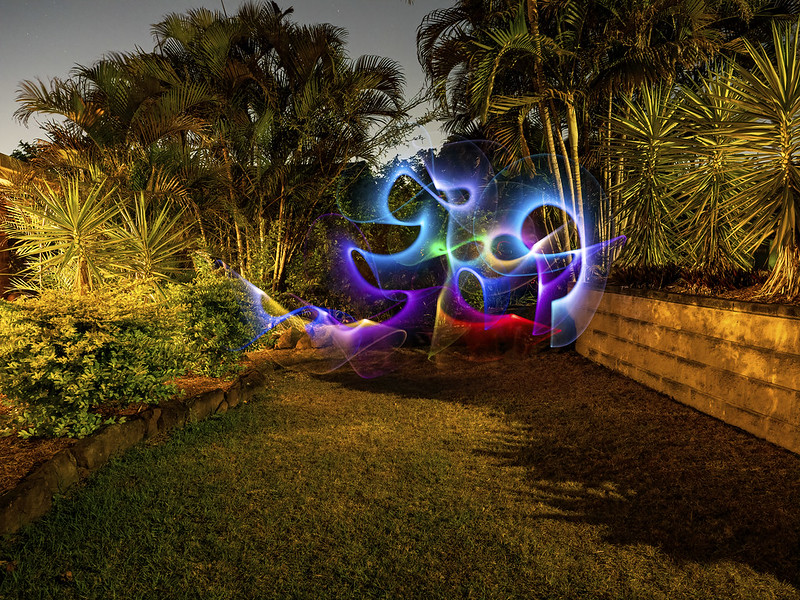 There are so many possible applications. It is a technique that should be in all long exposure photographers toolkit.
About the Author:
David Chesterfield is a photographer specializing in light painting and water drop photography. His photos and articles have appeared in a number of books and magazines, as well as online. David is currently a MIOPS brand ambassador. He works out of Brisbane, Australia
You can see more of David's visually creative work here:
More From David:
If you've enjoyed this post, here are other stories from David on Light Stalking. Don't forget, you can also find David regularly commenting and posting on the Light Stalking forums
Further Learning:
If you'd like to learn how to create photographs like David's beautiful images, then take a look at The Secrets Of Light Painting Pack.
The Secrets Of Light Painting Pack is a comprehensive guide that teaches you all the techniques, camera settings and gear that you'll need to capture your creative vision. You also get 18 downloadable cards that you can take with you. Yep, you can stop reading and get out there and just do it – actually this really is the best way to learn.
This pack will teach you everything you need to know about Light Painting to get the images you want.
So, you'll only be limited by your imagination!