When a new visitor or potential customer comes to your site for the first time, study after study shows that you only have a few moments to capture their imagination. That means your website needs to load fast and give them what they are looking for. While many photographers still persist with slow loading, heavy flash websites, there is a trend to faster loading sites that can be equally appealing. The biggest problem though, is that images, which are a photographer's stock and trade and a 'must have' for any photographer's site are also often quite large files and therefore slow loading, especially for web surfers on slower connections. That has been a problem until now.
Smush.it is a great little web based utility that is of enormous benefit to photographers with a lot of large and heavy images on their website. It simply takes the photo and reproduces it with no loss of aesthetic, but at a smaller file size. As you can imaging, on an image heavy website, this can lead to significant savings in loading time (and means people will be more likely to stick around to see what you have to offer as a photographer). All you need to do is input the URLs of the images you want to streamline like this:
Click on the 'Smush' button and you get this: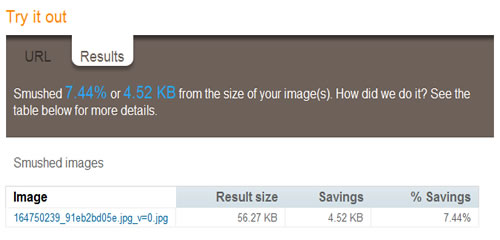 Then you just right click on the image link, save it and upload it in place of your original heavy, slow-loading image. Now, if you're even more determined to make your photography site faster, you can download this great little Firefox Plug-in which incorporates Smush.It, but also analyses other parts of a website to determine how it can be made to load faster.
With photography websites, however, the largest issue is usually going to be large image file sizes. The aim of any photographer's website is to get eyeballs on photos.
Smush.It helps make that a little easier and more likely.