Every portrait photographer needs to know both basic and more advanced female poses.
Poses for women are crucial because a female model is typically a more common subject in portrait photography.
If you ever run out of photo shoot ideas for women, you can use the following female poses as a posing cheat sheet to pose models. There's nothing amateur about that – in fact, many professional photographers use portrait poses cheat sheets to save some time when preparing for the photoshoot.
The female poses covered in this article are rather versatile and you can use them as an initial reference when photographing female subjects. You should customize them further and you should definitely discuss them with your models.
During a photoshoot, don't hesitate to discuss with your model which pose is or isn't working in any particular situation. Many female models are experienced and they can help you choose the best female poses. Here are some tips for female poses that also include general portrait photography tips.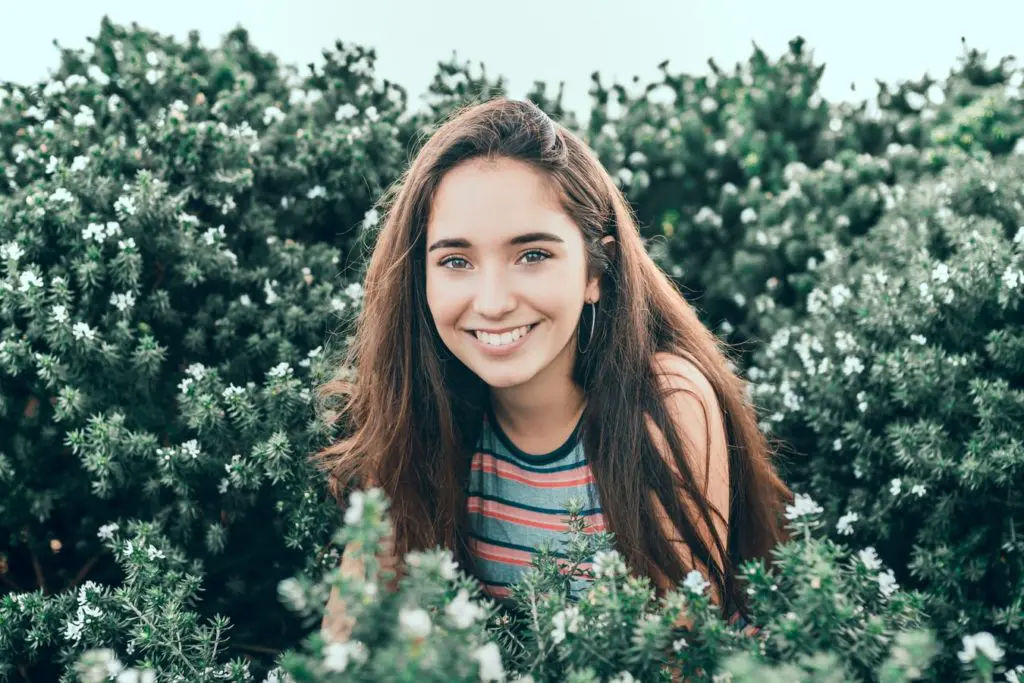 Getting Ready For Model Poses
Before the actual shoot, research female poses and prepare a shot list. Always consider your model's age, previous experience, body type, clothing, and so on.
It's very useful to have an ''Inspiration Folder'' on your mobile phone or on your computer so that you can show your models various poses that you really like and want to try out. Always have a combination of standard and unusual model poses.
Model Preparation
You can help your model feel more relaxed and more confident by talking to her prior to the shoot. This is very important if your subject isn't an experienced model. Finding the right photography poses should be fun!
Explain your ideas for the shoot and show her the location and various props you might use.
As the shoot begins, don't be overly needy and try to build a relaxed relationship with the model. Give her more specific directions once she feels more comfortable.
Don't be deadly serious! Chat, give compliments, make jokes.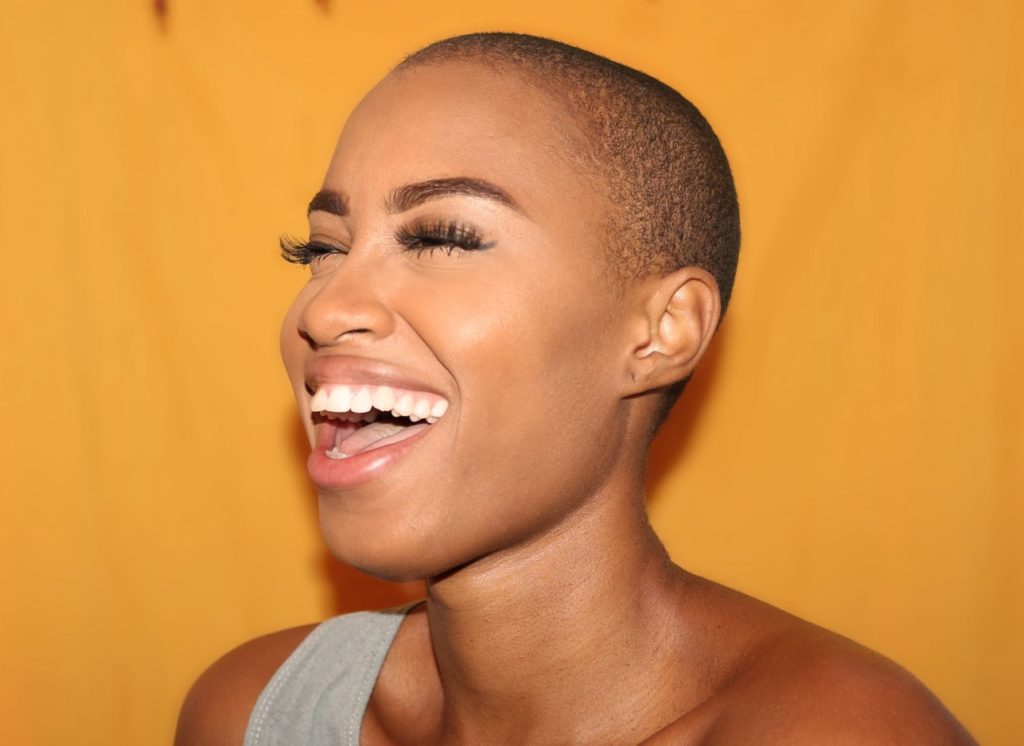 Tips And Tricks For Effective Female Poses
Don't Shoot From Eye Level
Shooting from slightly above is more flattering when it comes to poses for women. This perspective will help you emphasize your model's chin and jawline.
This angle works great for curvier women. The body and face look slimmer when the camera is above the subject.
Mouth Should Be Slightly Open
This is another really useful tip for female models. A closed, tight mouth looks too strict and suggests anger, boredom, or feeling uncomfortable. On the other hand, a slightly open mouth implies vulnerability or sensuality.
Pose The Hands Properly
One of the trickiest things for a photographer is knowing how to pose the mode's arms and hands. Depending on the emotion you want to convey, ask your female model to place the hands to the side, under the chin, in the hair, or over the shoulder. She can also hold something – sunglasses, newspapers, a hat and so on.
The fingers look best when they are slightly apart, curved, and just lightly touching the hair, face, or some prop she holds.
Space Between The Arms And Body
Holding arms flat against the body usually doesn't look good. It looks uncomfortable and awkward.
As a photographer, you should do your best to correct this problematic posture. Portrait poses which include placing a hand on hip or simply bending elbows can solve this problem. Just remember to create a gap between the arms and body.
Curves
When it comes to a female pose, emphasizing your model's curves is essential and this will help incorporate the beautiful S curve composition in your portrait photography.
The so-called hourglass shape is cherished in female posing and you should come up with various strategies to make it more pronounced. Highlighting the curves of your female model will also make the waist more defined, which looks feminine and attractive.
So-Called Favored Side
Our bodies are asymmetrical and chances are that one side of your body looks more photogenic. Many experienced female models already know which is their favored side and they will tell you this.
Shooting your model's favored side is also a great strategy to make your client more relaxed.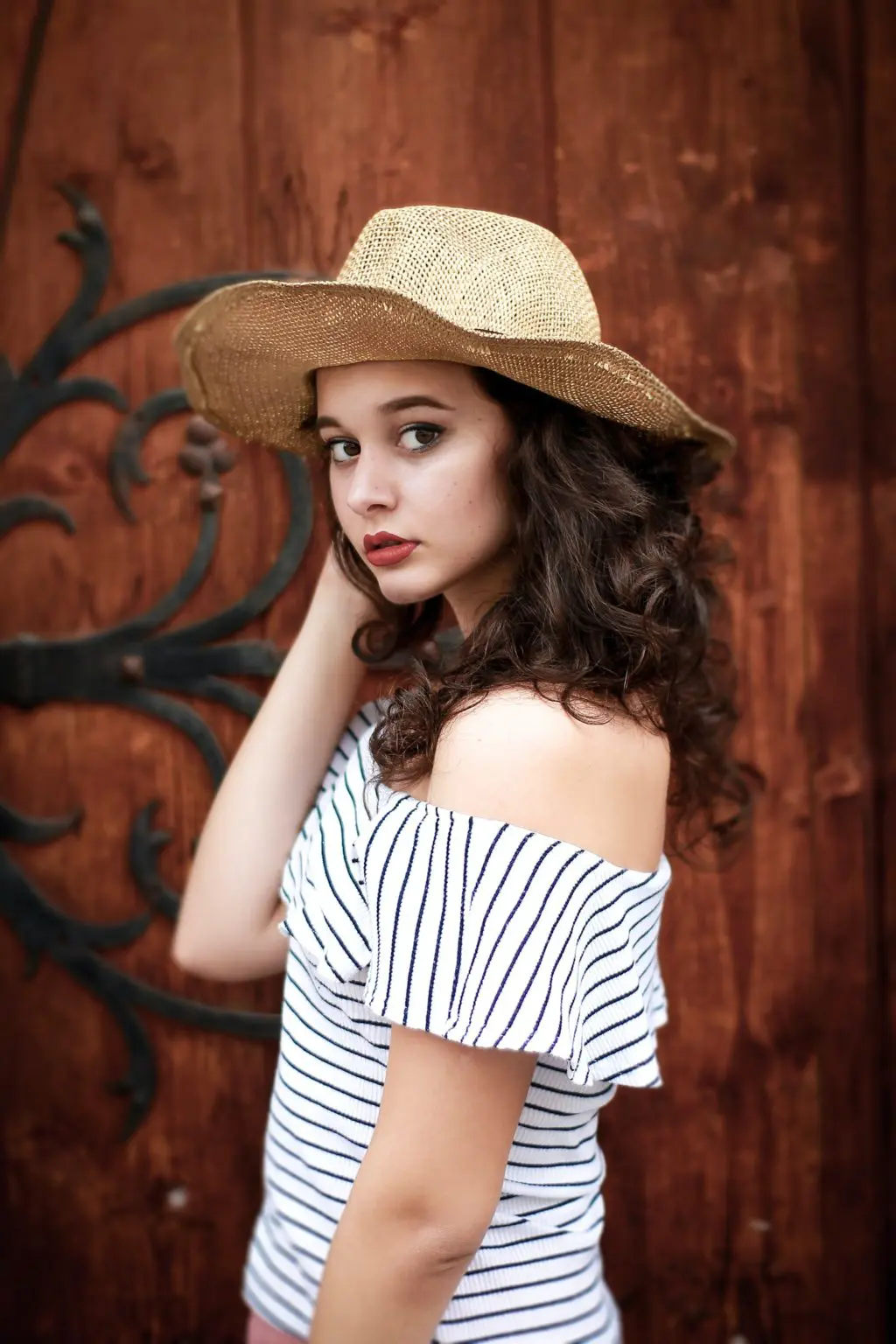 Female Models Poses List
We'll cover 25 versatile poses for women, in no particular order.
Hands In The Air
This is a fun female pose, ideal for outdoor photoshoots. It is also an easy pose, playful, and dreamy. You just need to ask your model to raise her hands. She can keep her eyes open or close – this depends on the atmosphere you want to achieve. In any case, her face should look relaxed. She can even dance and twirl while holding her hands in the air – this fun pose will make the image more dynamic.
Flipping Hair
This pose is ideal for models with beautiful long hair. This is a very common female pose, but it doesn't mean that you shouldn't experiment with it. Your model just needs to flip her hair and you need to take multiple shots and pick the one that looks best. Of course, make sure you use a fast shutter speed to take sharp and the best shots possible.
In case you want to achieve something different, you can use a slower shutter speed and create motion blur.
Resting Head On Hand
This is a relaxed female pose that can also look romantic or pensive – it depends on the facial expression of your model. Instead of looking directly into the camera, your model can look up, left or right. This will make the portrait photos appear candid and less posed even though it isn't.
Be careful with lighting – you should capture the catchlights in your model's eyes and the light should be diffused and evenly distributed. This will lead to a well-lit quality portrait.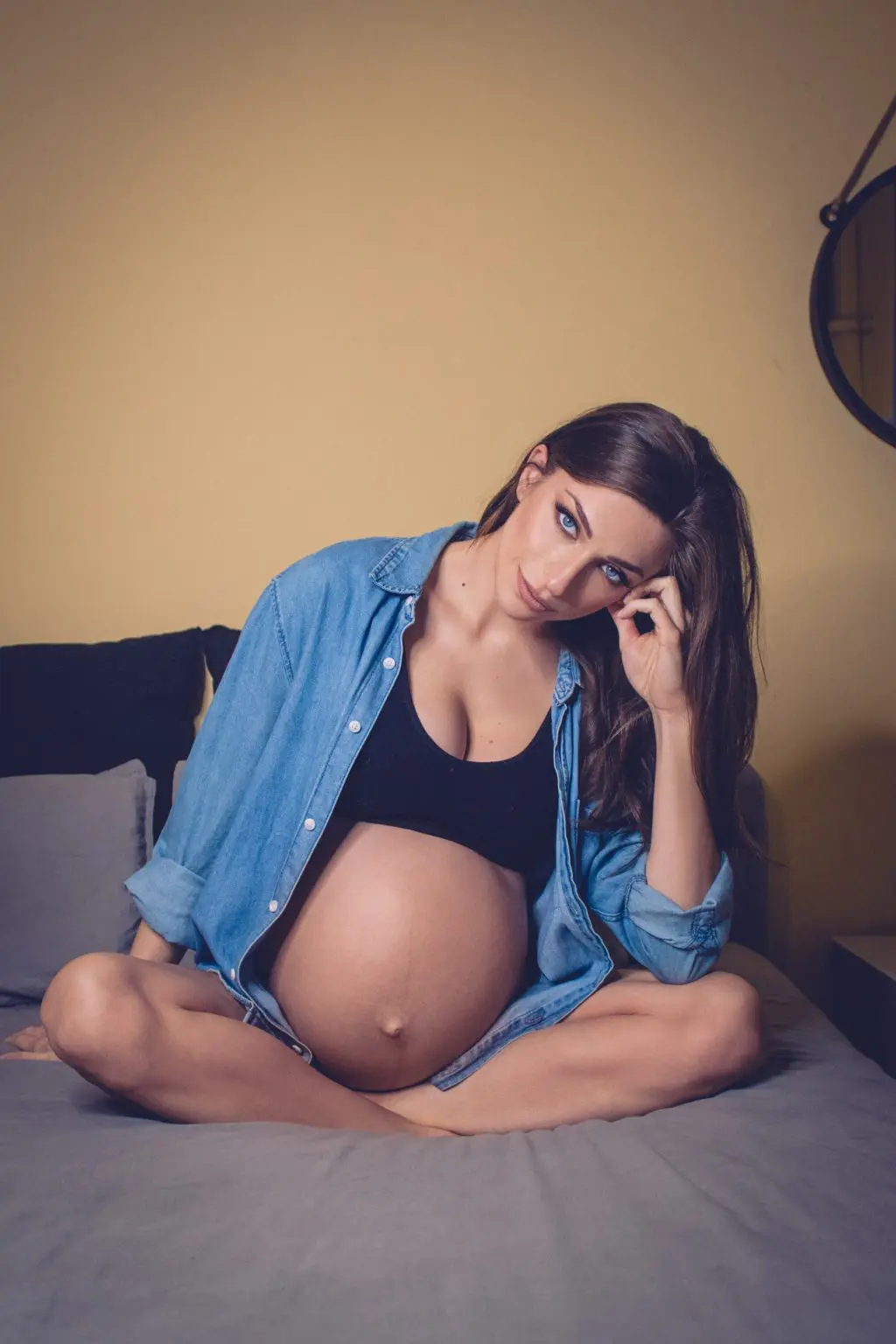 Leaning Against The Wall
This versatile pose works great for both male and female models. It is a casual but rather effective pose, ideal for street photography and fashion shoots. Your model should stand with her back straight in front of a wall and lean her head on the wall. She can also turn her back to the wall and bend one knee while leaning against the wall.
This pose is great for experimenting with props such as sunglasses, hats, bags, and such. That's why it is so popular in fashion photography.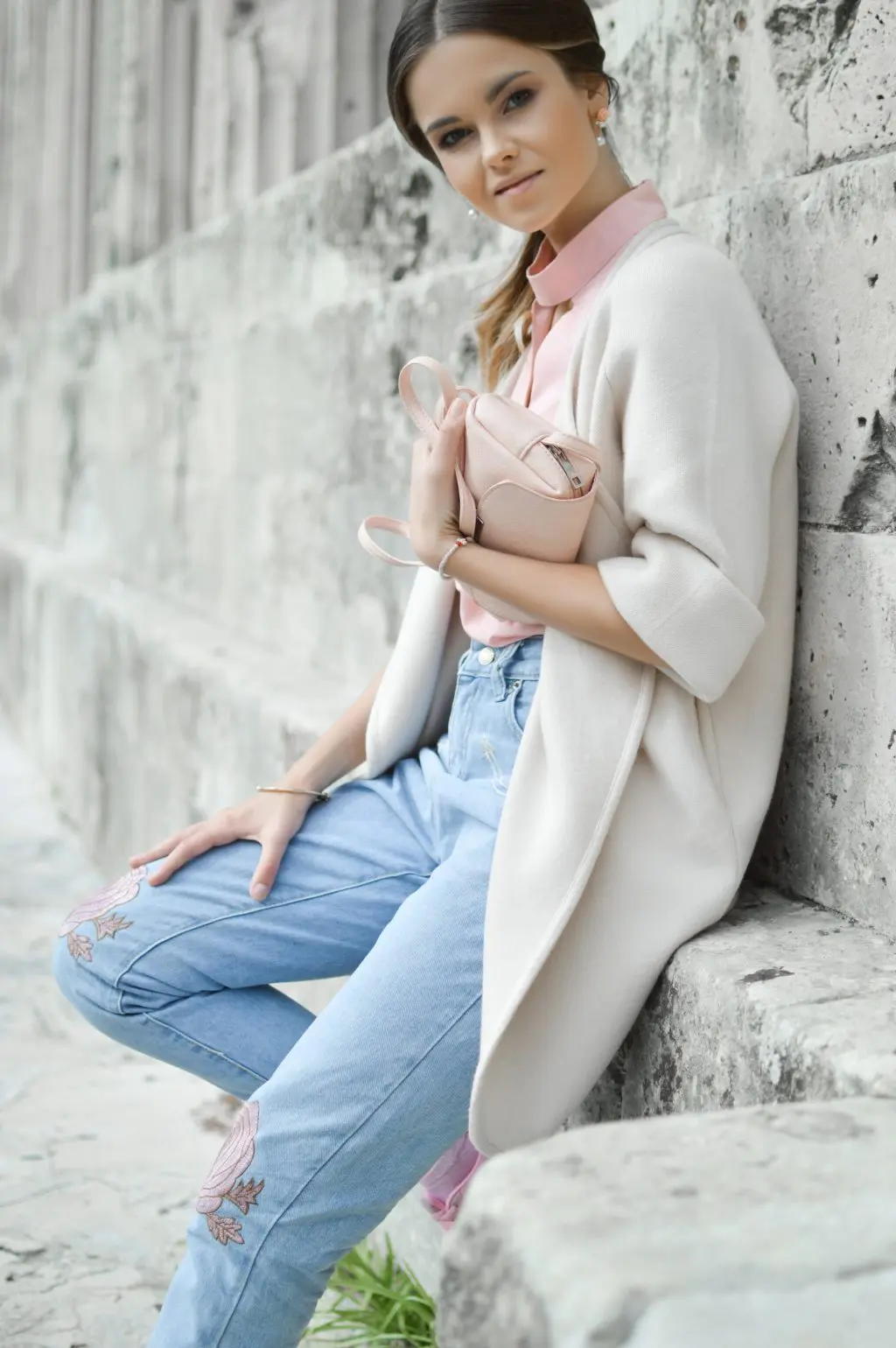 Looking Over Shoulder
This is one of the classic female poses that always looks great. It is very simple too – your model should look over one shoulder and she can stand or sit. Experiment with both options.
This female pose can look very stylish (it's also common in fashion photography) and it exudes confidence and poise.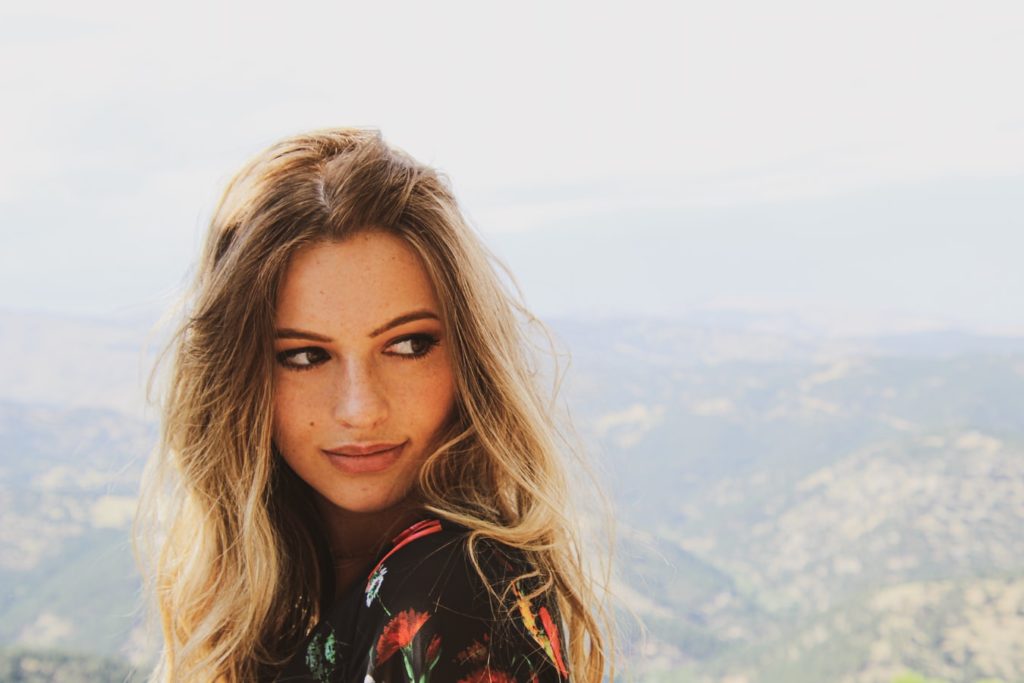 Photographing From Behind
Your model's face doesn't have to be the star of each photo you take.
Photographing from behind works great in full-length shots and it can be very flattering because you can focus on your model's posture, clothes, or hair. Just watch the placement of legs – it should look natural! The best way to shoot this pose is when your model is walking away from the camera.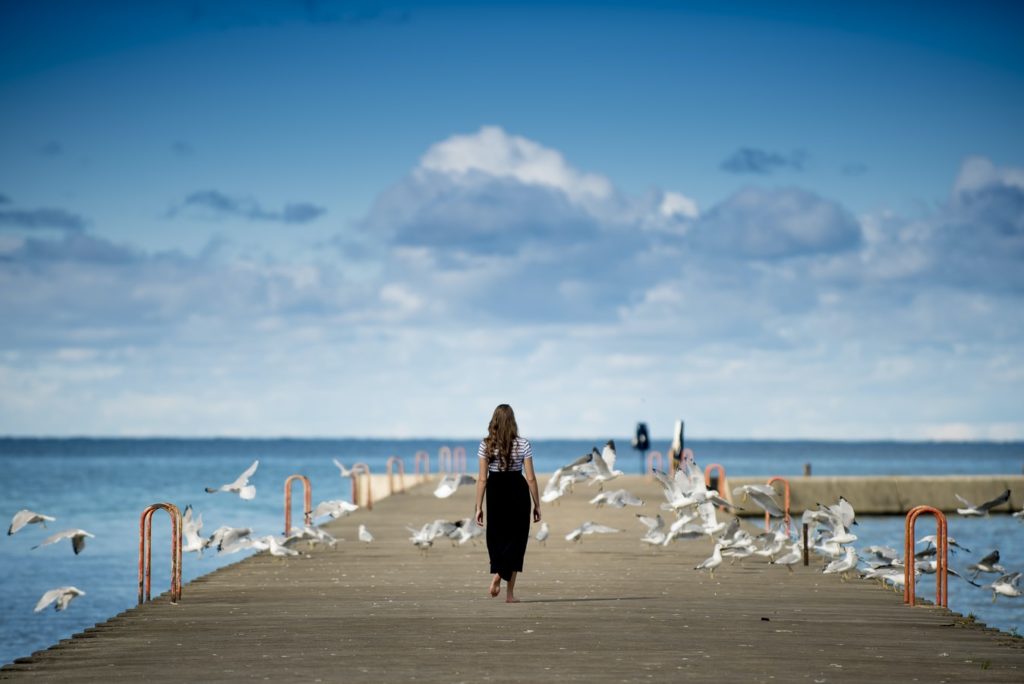 Standing Poses With Props
You have many options for female standing poses in case you have a couple of versatile props. These are just a few of them – feel free to customize them in any way you want:
leaning on the chair
standing on the chair
one foot rested on the chair
holding a hat or a flower
reading a magazine while leaning against the wall
playing with an umbrella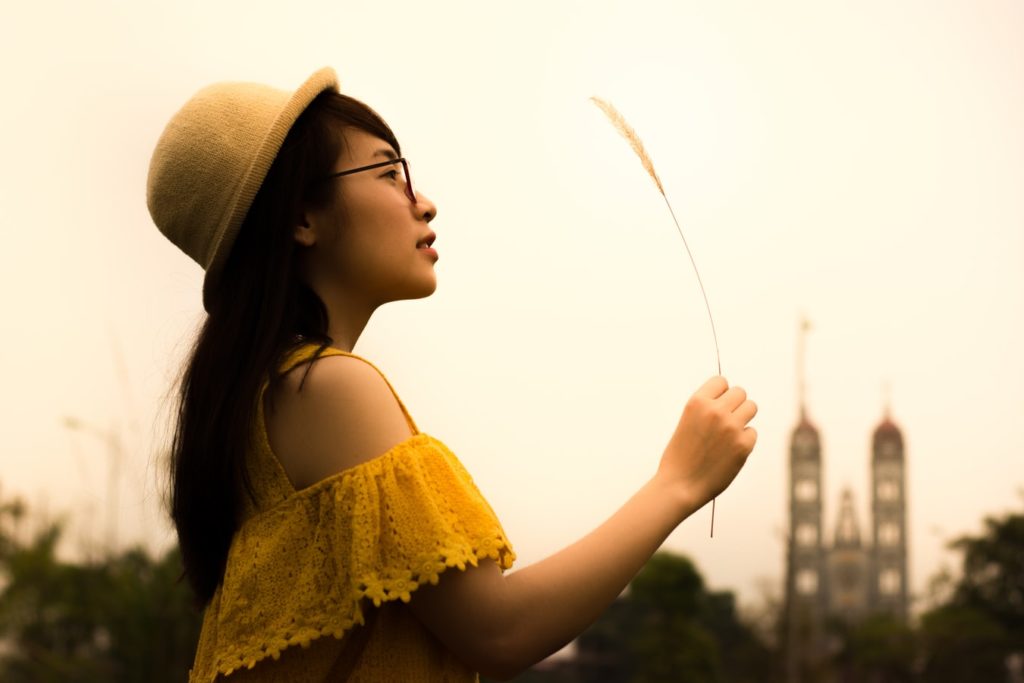 Walking Towards The Camera
If you like natural-looking poses for female models, this one is a great choice! You can use it at the very beginning of the photo session, to help the model relax – just ask her to slowly walk towards you. As she approaches you, make sure to move around and experiment with various angles and focal lengths.
Holding Hands On Hips
If you want your model to exude confidence, try this pose. It's one of the best-looking female poses which enhances the hourglass shape of the female body.
Ask your model to put one hand on her hip while her other hand can hold something – include a suitable prop! She can also place both hands on her hips but this pose might look too aggressive and not so feminine, so make sure not to use it too often.
Hands In Pockets
We associate hands in pockets with male photography poses, but it's definitely not reserved for men only.
This is a casual standing pose ideal for street photography. If your female model puts her hands in pockets, she will look playful or edgy – this is ideal for stunning portraits of female artists, for instance. This pose is also often used in lifestyle photography simply because it looks natural and it solves the problem of awkwardness which is pretty common pose when your model doesn't know what to do with her hands.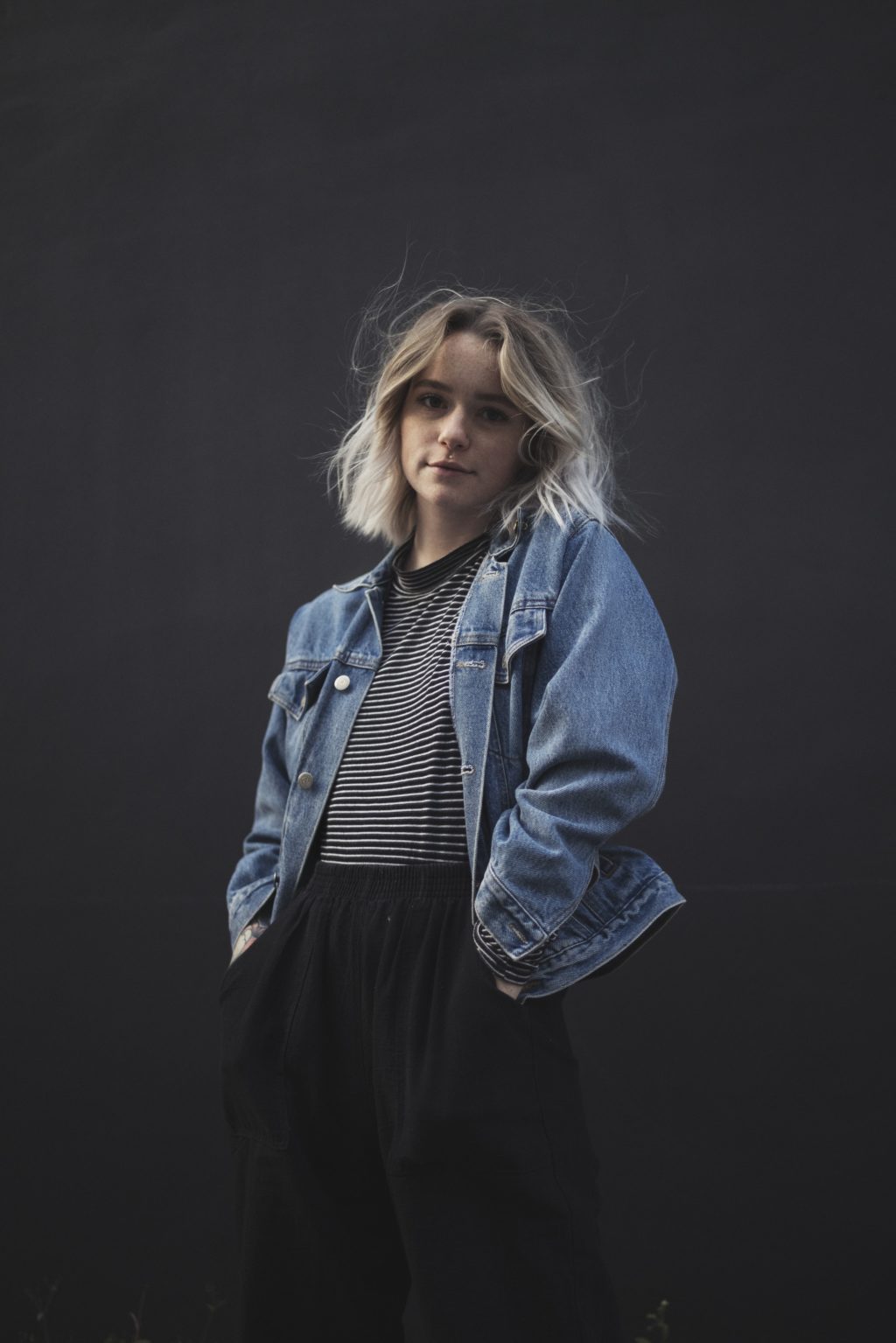 Elbows On Table
This is another pose that looks great in lifestyle photography. It also gives you the opportunity to play with color combinations in terms of table colors and the clothes of your model.
Pose your model at a table –  ask her to put her elbows on the table and she can also tilt her head to the side for a dreamy look. You can use other props as well to complete this pose and perhaps add a storytelling dimension.
Lying On Floor
This is a simple yet very seductive female boudoir pose. It is common in boudoir photography because it is very effective and it can look splendid under soft lightning. Your model should simply lie on the floor and perhaps play with her hair or with some prop, such as a book or a magazine. You can capture this pose from eye level or from the above.
Hands In Hair
This simple pose is ideal for amateur models. It looks very spontaneous and it can be very feminine. Your model just needs to put one or both hands in her hair – this will look quite impressive if she has beautiful long hair!
She can also slightly lift her chin if you want her to look confident. In case you want her to look very soft, timid, and shy, she can look down. Make sure to try both versions of this pose!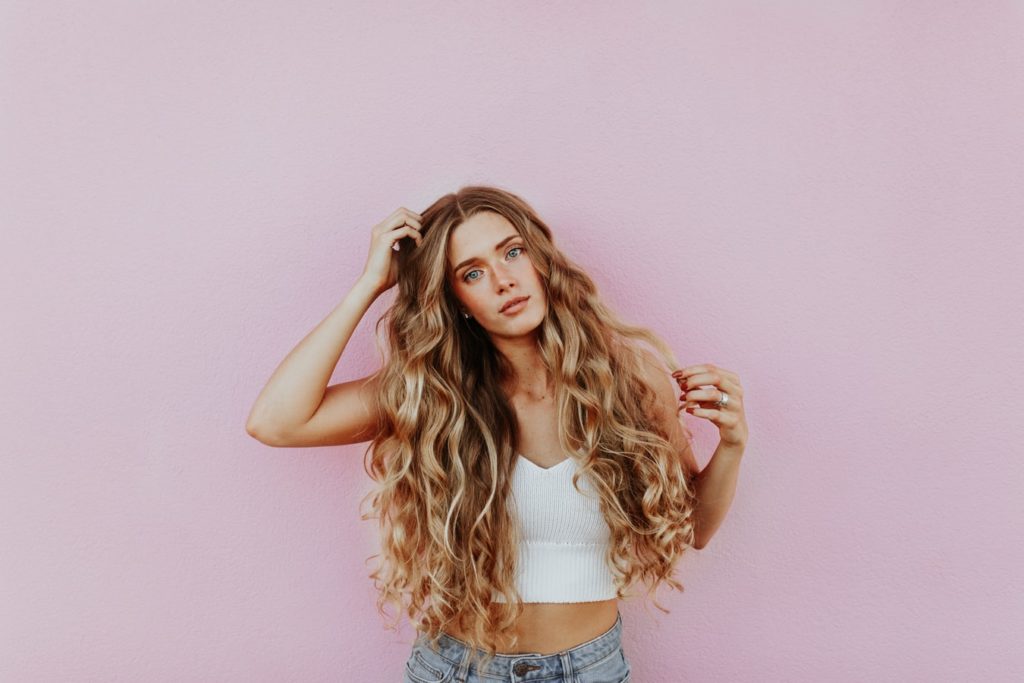 One Leg In Front Of The Other
This is an elegant standing pose – your model just needs to put one leg in front of the other. She can also lean against the wall while resting in this pose – in this case, her posture will look more casual and in a relaxed pose. This pose is ideal for street photoshoots.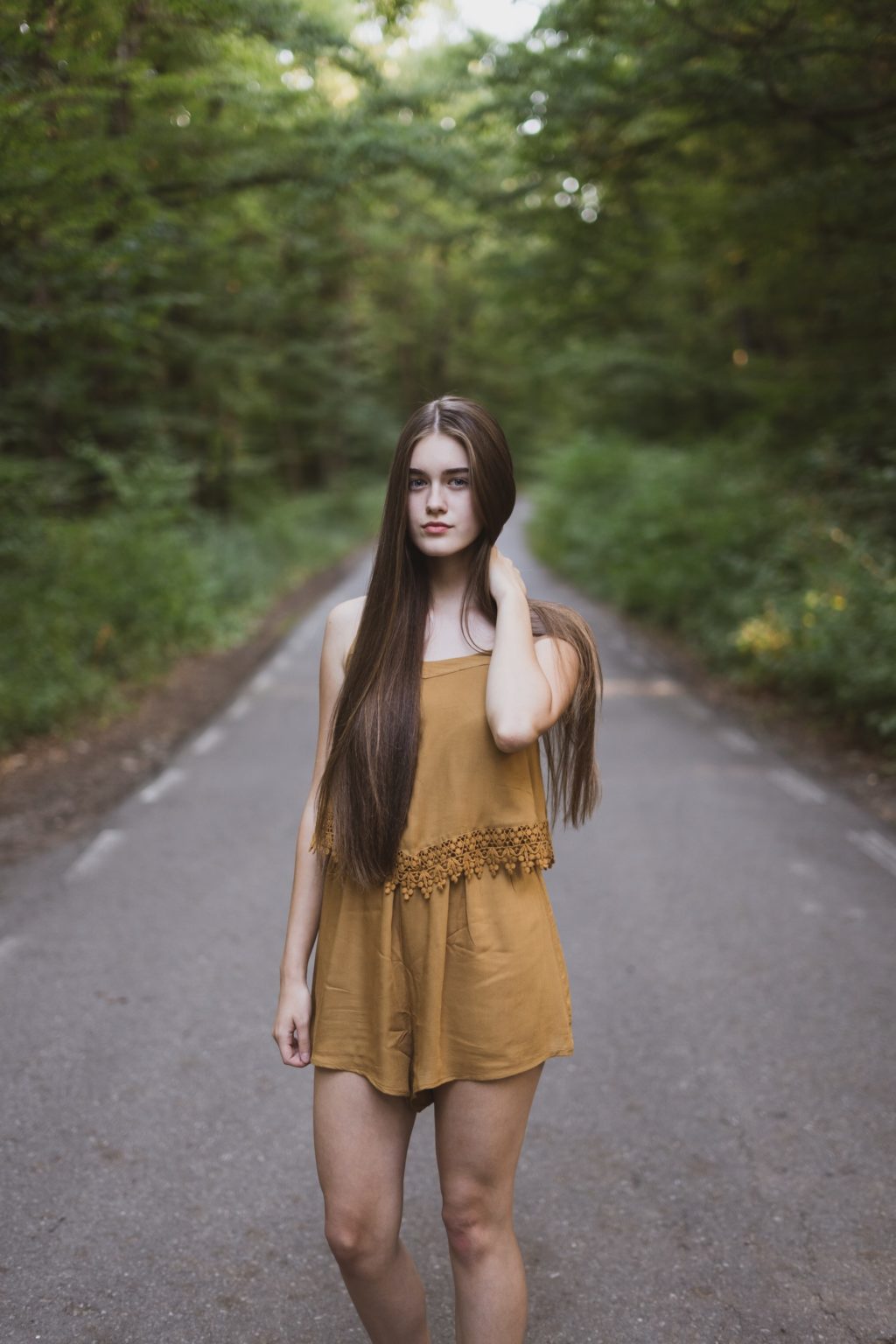 Holding Hands On Cheeks
If you like to shoot closeups, you should include this sweet yet effective pose. The model should put both of her hands on her cheeks. She can smile and look directly into the camera for more impact. Depending on your model's facial expressions, this pose can look seductive or innocent.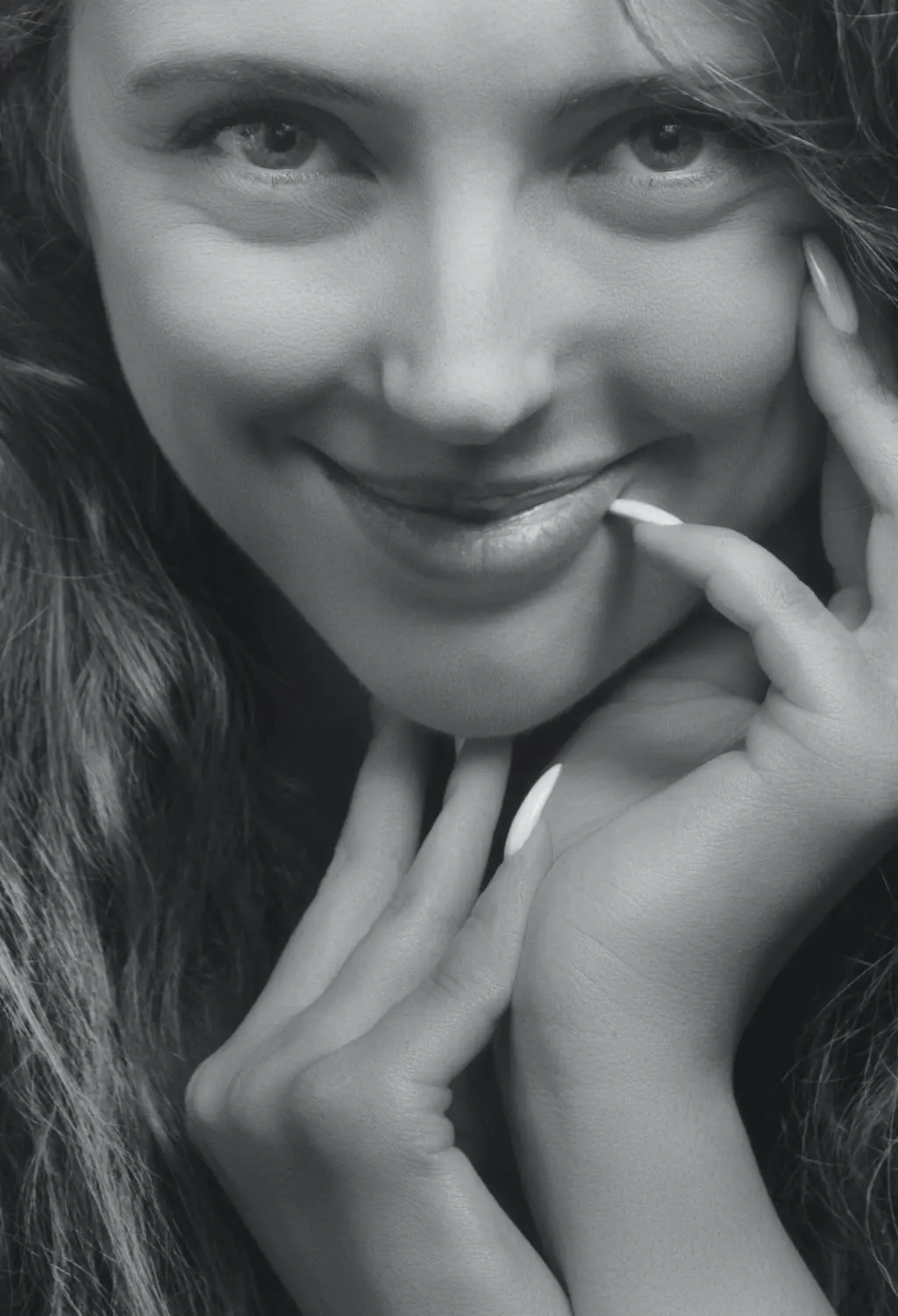 Lying On Stomach
Shooting outdoor portrait sessions will give you plenty of opportunities to practice and master this pose. Your model should lie on a flat and soft surface, such as a grass field or sand.
She can lift her legs up – this will make the pose more playful. She can also use some props, such as a magazine, a cup of coffee, and so on if you want to make the shot appear candid.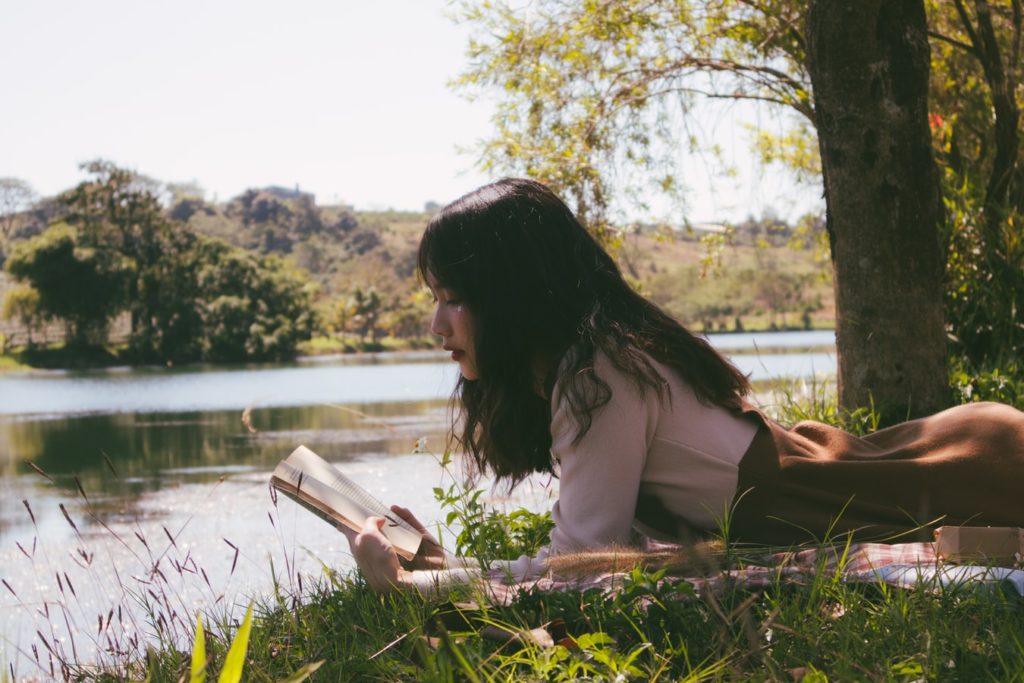 Shooting From A High Point
Never shoot the entire portrait session from the eye level – you need some variety in terms of perspective and different angles!
Shooting from a high point usually works well and looks quite flattering. You can shoot any of the different poses we mentioned from a high point.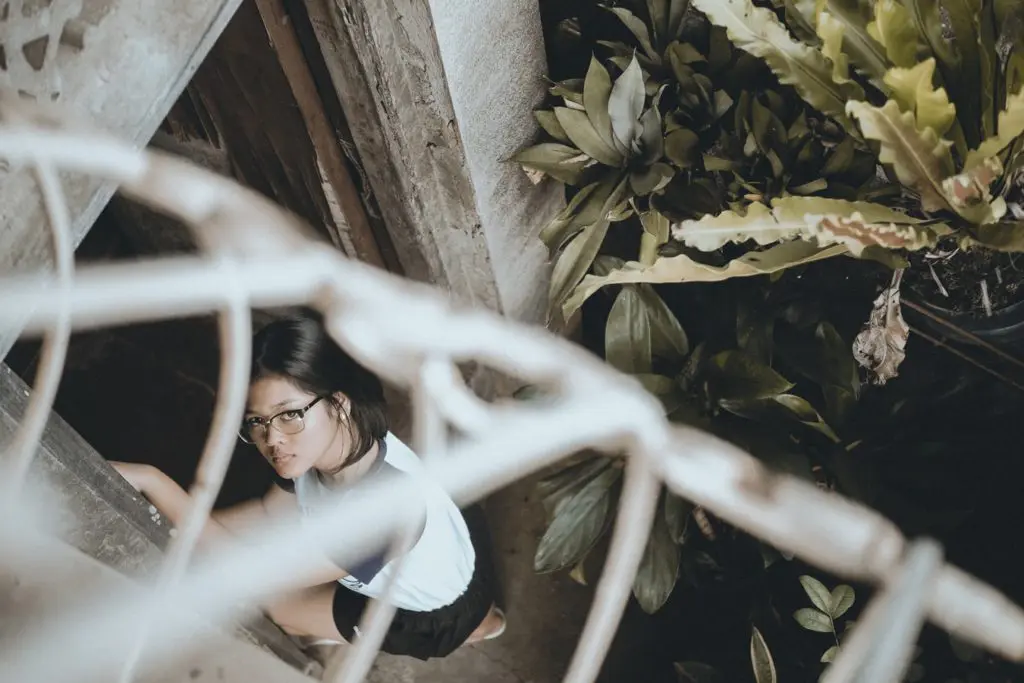 Bending The Back
An easy way to introduce sensuality to your shots is to ask your model to bend her back. Female poses that include arched back are seductive and they can emphasize your model's curves and show her physique in the best light.
Bending the back can be done on the floor indoors or somewhere outdoors – there are many great options to explore!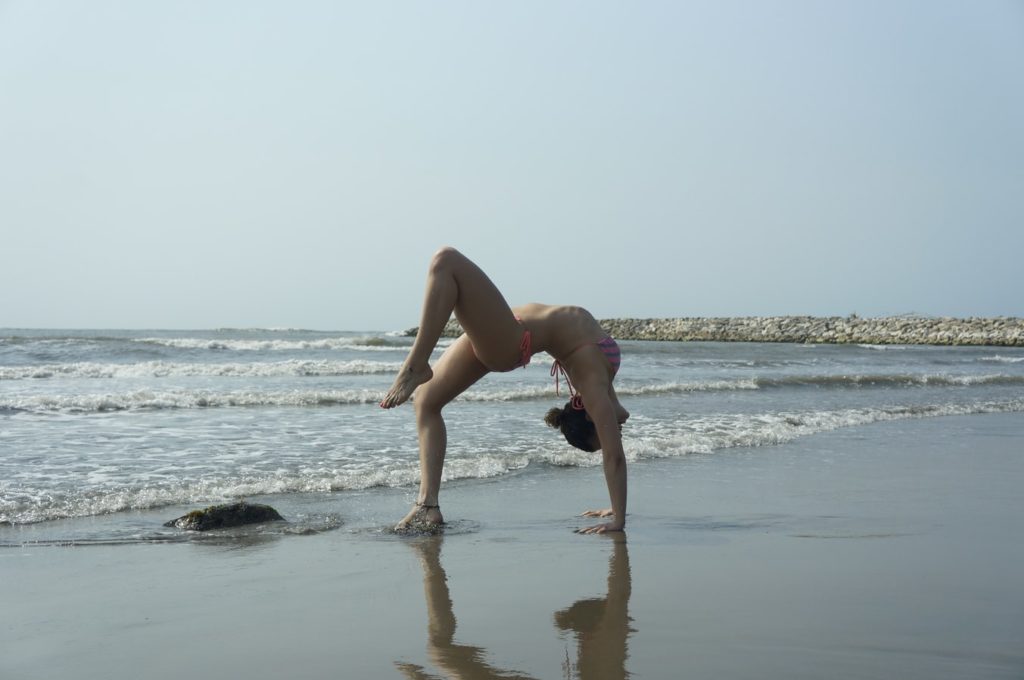 In The Bath
If you are interested in more creative poses for women, you can try posing your model in the bath. This can work wonderfully in boudoir portrait sessions and including props like candles or flower petals will make the session even more dreamy.
Posing in the milk bath is also a great idea since it looks very luxurious.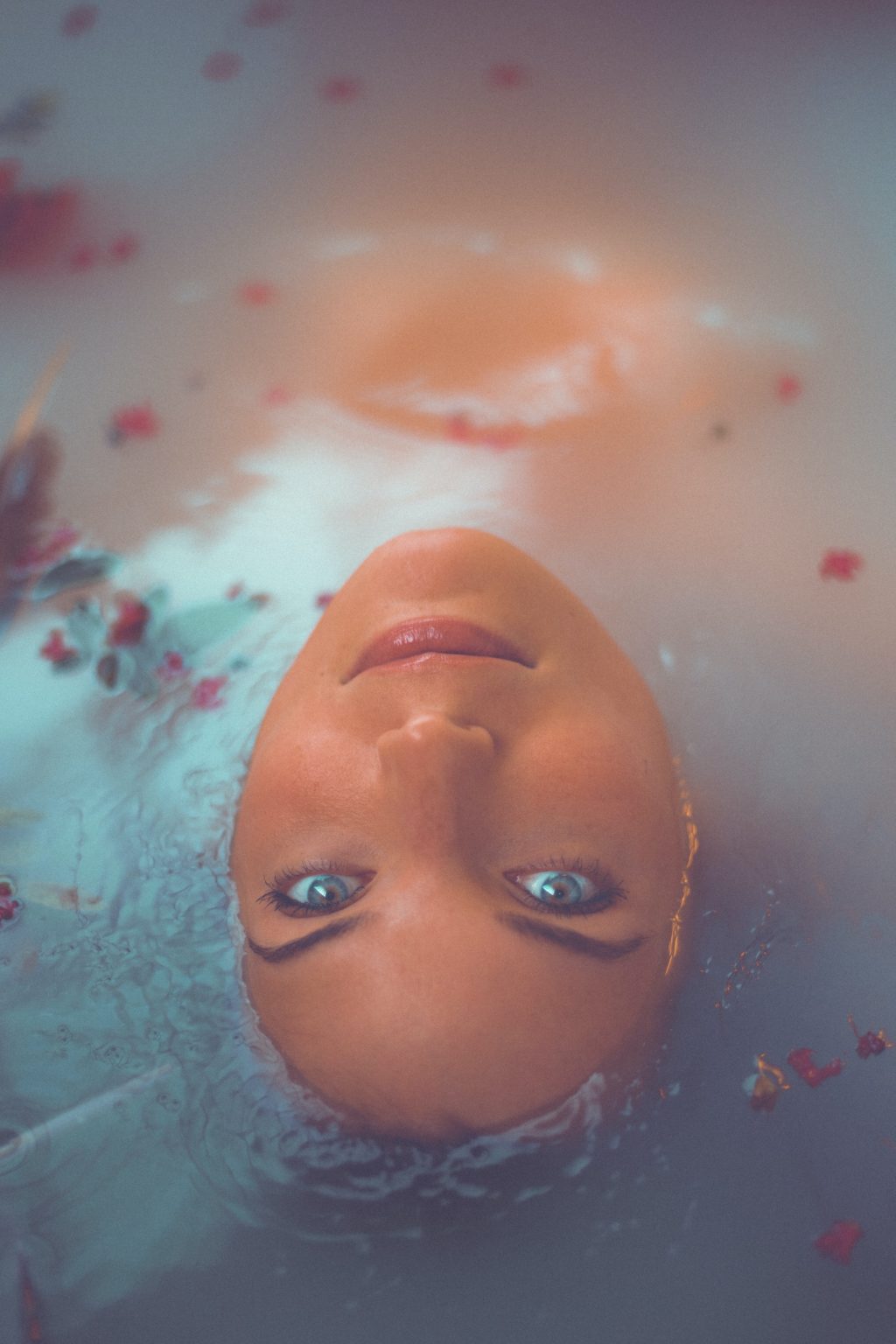 Sitting Sideways And Looking Forward
This is one of the female sitting poses that looks candid and works great in street portrait photography. Your model should look straight ahead as you shoot her profile. Of course, she can turn her head and look into the camera in case you want to capture her gaze.
If you shoot this posture from a distance, you can include your model's surroundings and take care of composition too – think about the rule of thirds, leading lines, and so on.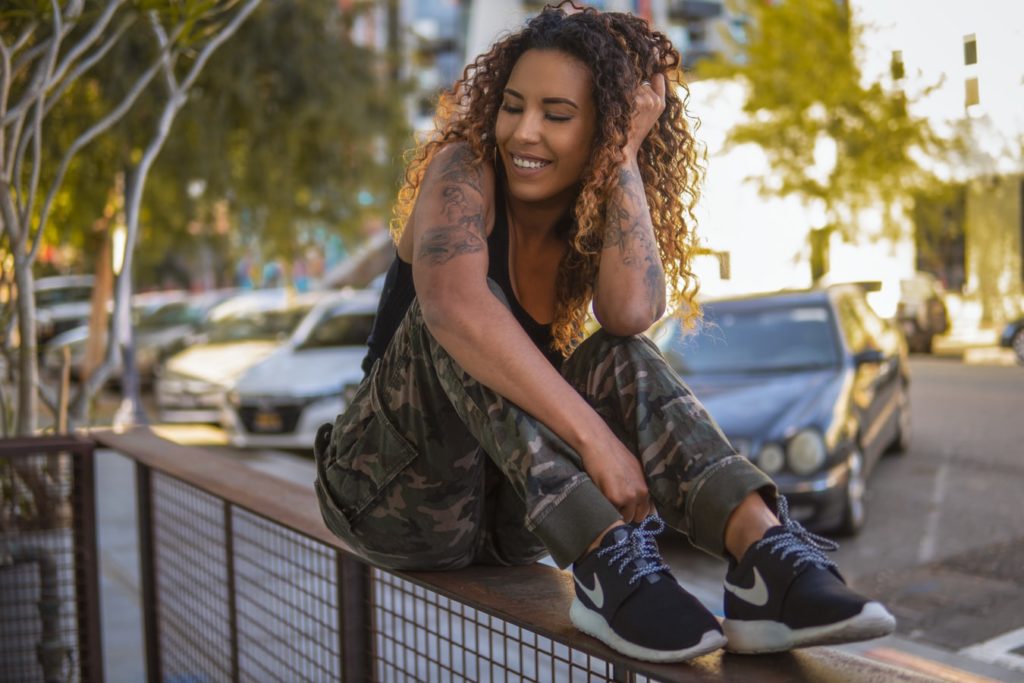 Sitting In A Chair
There are many different looks you can achieve with portrait poses which include a chair as a prop. You will have the model sitting on a chair in this sitting pose.
You can use various angles and heights, and your model can sit in different ways – try side sitting as well as sitting backward. Your model can lean against the chair, hold the back of the chair with one or both hands, and so on – there are so many options for experimentation!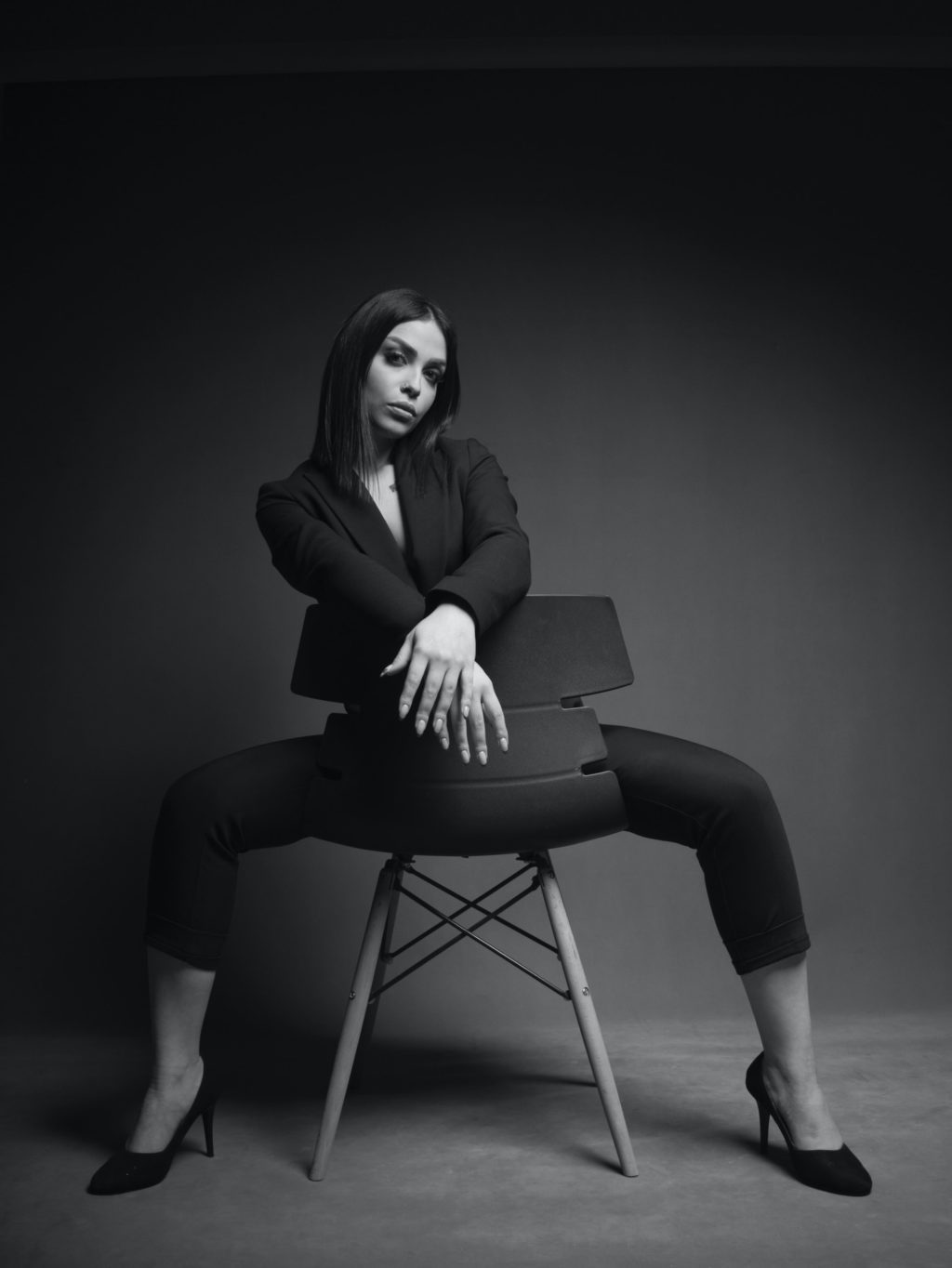 Knees Bent
This is a great posture if you want your model to look vulnerable.
The model in this pose looks best if shot from a 45 or 60 degrees angle. She doesn't have to look into the camera –  ask her to look down or to the side. This will introduce the feeling of mystery. You can shoot this pose while the model is sitting on the floor or in the chair.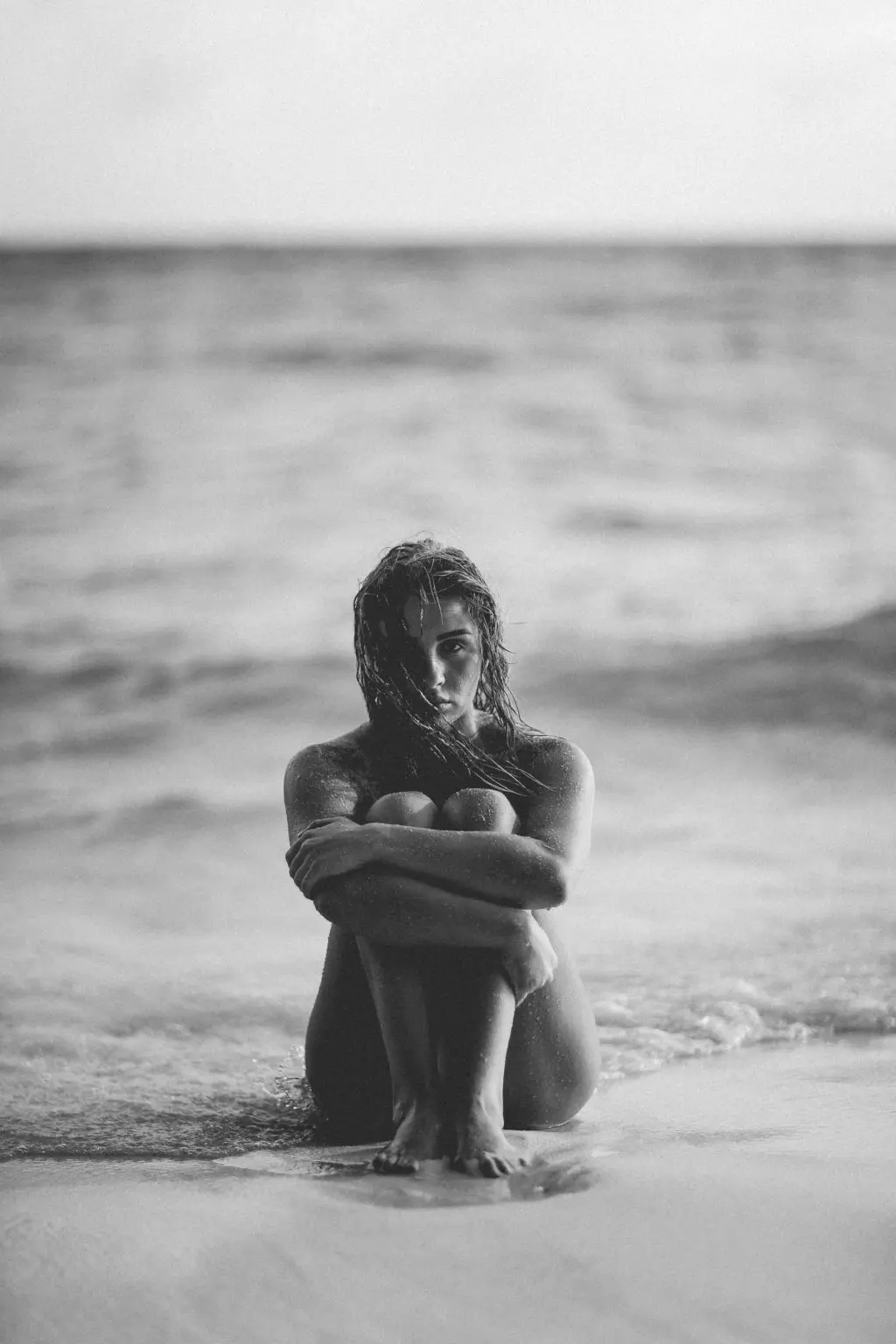 In An Armchair
Since armchairs are more massive than regular chairs, posing the model in the armchair is great if you want to create a more luxurious, sultry atmosphere. If you often shoot boudoir photography, you should have a couple of nice armchairs in different colors.
Sitting in the armchair can be a very elegant pose and it can greatly emphasize your model's legs. If your model is wearing a skirt and pretty stockings, don't forget to shoot a few creative portraits in the armchair.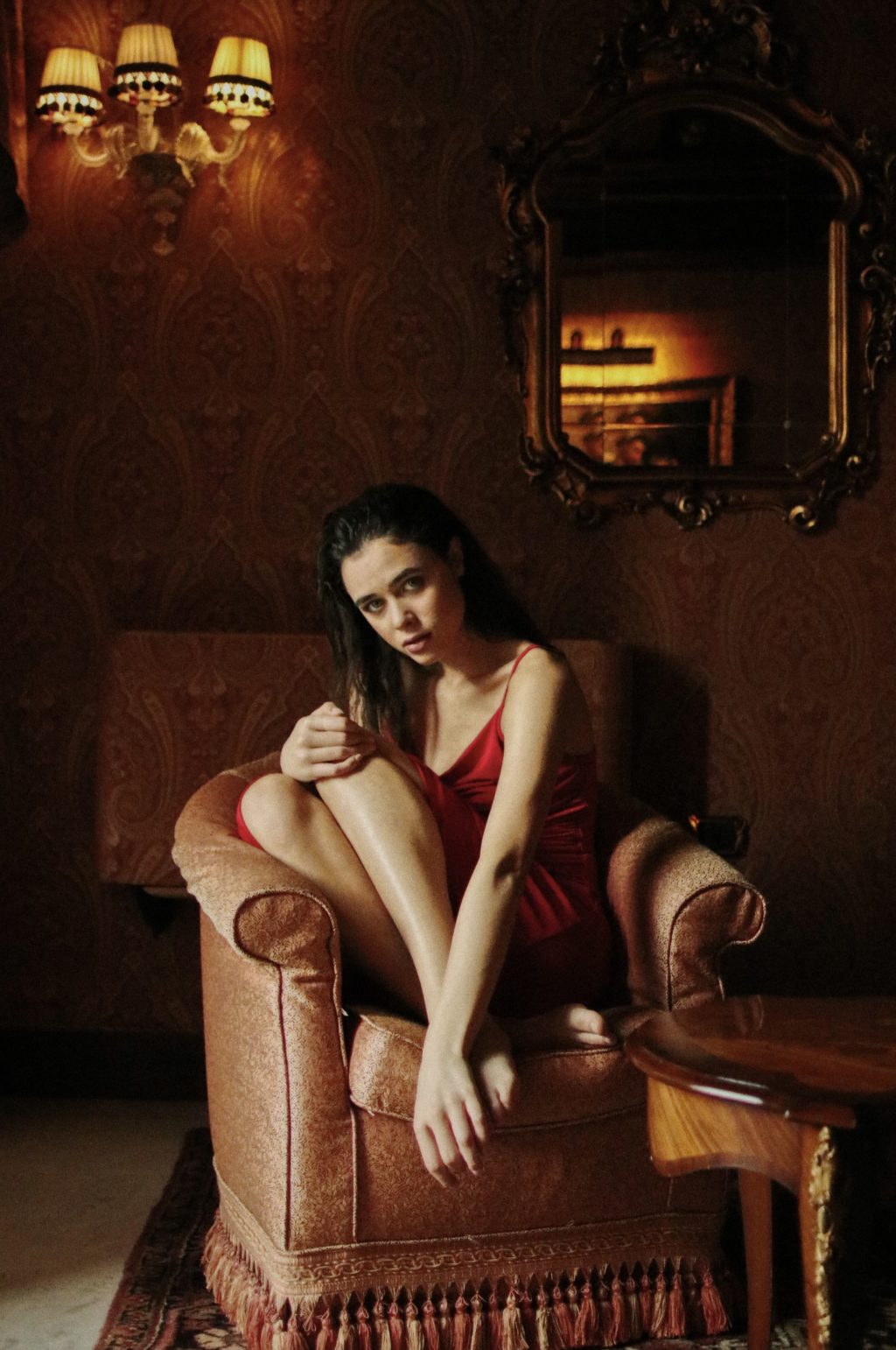 Closeups
Closeups are extremely important in portrait photography. When it comes to female poses for closeups, make sure to experiment with various angles, ask your model to slightly tilt her head and if she can, she can try to convey various emotions. This might not be easy for amateur models, but more experienced models are usually comfortable with closeups. Play with different facial expressions so that you can find the perfect smile or dreamy gaze.
With A Mirror
Mirror is an amazing prop that can elevate your portrait photography a lot.
Play with a mirror and show your female model from different sides – she can stand opposite the mirror or next to it.
Experiment with different types of lighting and optical effects and feel free to create surreal portraits that are more eye-catching than regular ones.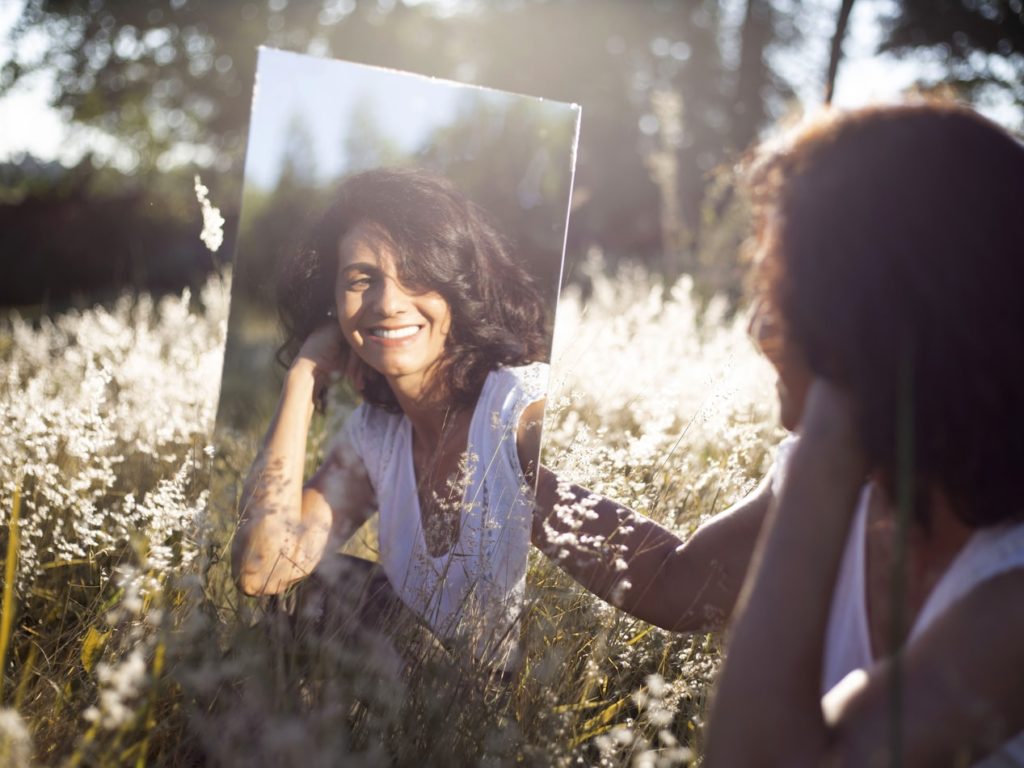 Conclusion
The female poses listed here are suitable for all kinds of female portraits. You can use them as posing guides in every portrait photoshoot you have.
The more female poses and photo shoot ideas for women that you experiment with, the more diverse your photos will look and you'll be able to convey many different expressions and emotions, which matters a lot. Also, if you have an extensive list of female model poses, your clients will feel more comfortable when they work with you. They will have plenty of options to choose from.
Finally, keep in mind that learning many model poses will also enrich your photography portfolio and make it look great.
Further Resources: