I never buy from Facebook adverts. At least, that used to be my mantra until I saw an advert from Loupedeck offering a summer sale. Let's be honest, in the FB advertising world, there are a lot of scams. Using DJI marketing materials to sell $50 drones is one that springs to mind.
However, Loupedeck is a name I, and maybe you have heard of, and my wife wanted to buy me a birthday present. So, clicking the advert, I was pleasantly surprised to be taken through to the genuine Loupedeck website with some genuinely decent discounts. Two working days later, the product was on my desk, ready to be set up.
What Exactly Is A Loupedeck?
Put into its most simple terms, it's a specially designed keyboard tailored towards editors, both stills and video. As well as buttons, it has rotary dials that allow for ultra-fine control of editing tools.
Loupedeck was founded in Finland in 2016 and used crowdfunding to build its first editing console. In 2018 they were incorporated in the huge Logitech peripheral company and, since then, have released a number of different products. My purchase was the Loupedeck Plus, one of their lower-end models. It is specifically designed for Lightroom and Lightroom classic, with buttons and dials conforming to many editing tools in said apps.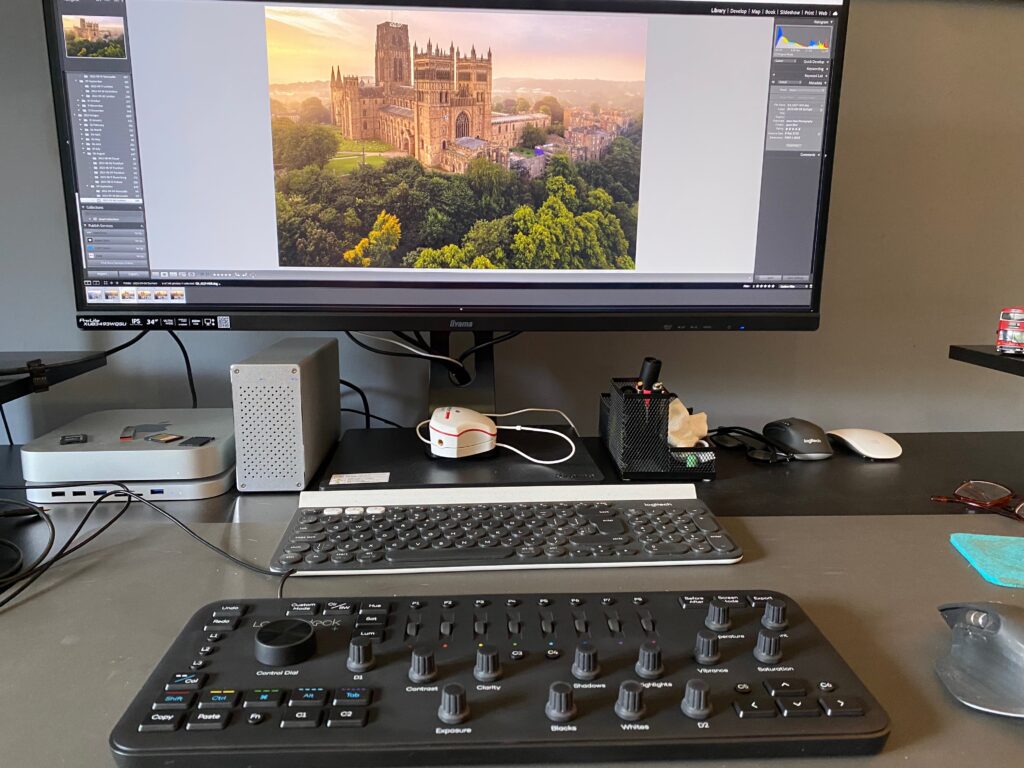 Unboxing And First Impressions
The Loupedeck Plus came in an attractive minimalist box, as is the way with modern tech products. There was the Loupedeck itself, plus a small information card. The Loupedeck is a wired accessory that has a built-in USB-A connection with a reasonably long cable. The cable is fixed, so if it's not long enough, you must find/buy a USB extension.
Taking the Loupedeck out of the box, I was surprised and slightly disappointed. It's very lightweight and has quite a plastic feel to it. The keys and dials feel like they are from a cheap Amazon keyboard, although the frame feels quite sturdy.
The deck is finished in a matt black, and each control has clear, well-defined text denoting what it does.
There are dials for all the main editing tools in the Basic section of the Lightroom Develop module and controls for many of the other most commonly used functions.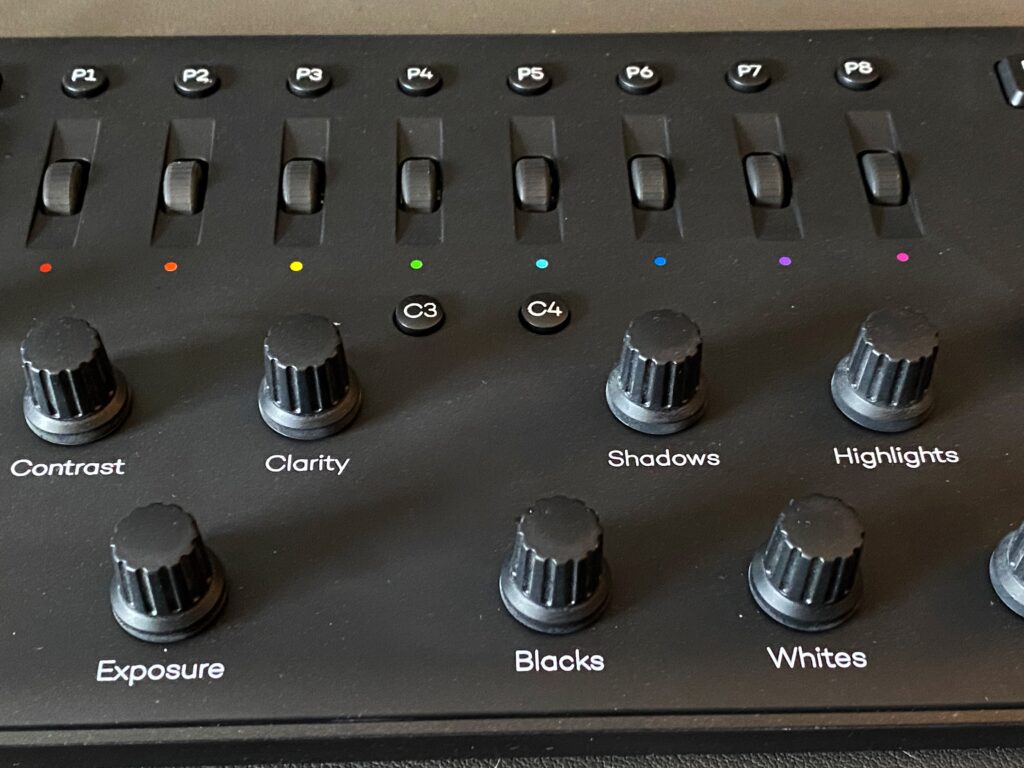 Setting Up And Software
As you might expect, the Loupedeck Plus is not a plug-and-play device. It does require some dedicated software and setting up. You need to download the Loupedeck app from their site. This is an easy install, at least on my Mac, and provides many customizable options.
There are a number of built-in profiles for common editing apps such as Lightroom, Photoshop, and Final Cut Pro. You can also download further apps from their built-in marketplace. Be aware some of these are third-party profiles that require payment.
The Lightroom profile worked brilliantly straight out of the box. All the controls corresponded with the Lightroom tools, and using it was effortless.
It's a similar story with Photoshop, however, because the keys and dials are dedicated to Lightroom, you have to build up your memory of which key/dial does what. There are third-party companies that sell keyboard overlays for the Loupedeck for various apps.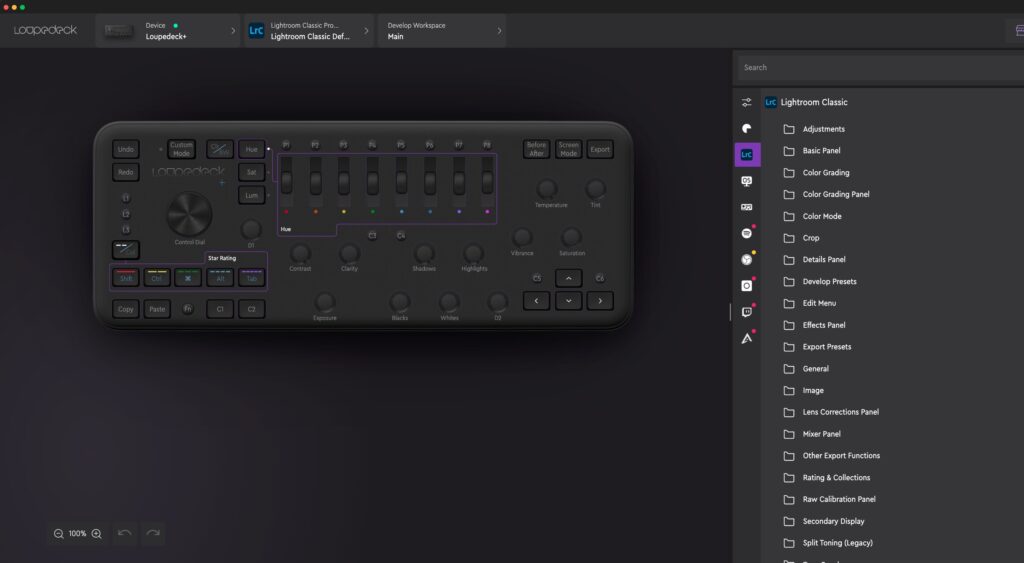 When it came to Final Cut Pro, I found the profile did not save any of the functions, it was just a blank canvas that you had to program yourself. This is a bit of a learning curve and also quite time-consuming.
I searched extensively on the Loupedeck website to find out why the profile did not have the keys strokes built in but to no avail. I might well be missing something, but I found the online help confusing and difficult to understand. It is not helped by the fact that lots of the information might be relevant to one product but not the other.
With a few hours of careful experimentation, I eventually got a good profile set up for Final Cut but I still have to do one for DaVinci Resolve.
In Use For Stills
In a word, excellent. At least for Lightroom Classic. Despite my reservations about build quality, both the keys and dials work brilliantly. The dials, in particular, have very fine control allowing for some very fine micro adjustments. A whole section of vertical dials is dedicated to the HSL section of the Develop Module, again giving very fine control.
Using even a high-quality mouse, sometimes the sliders in Lightroom can be a little erratic. Not so on Loupedeck; everything is fluid. Better still, you can edit in full-screen mode, a real bonus that allows you to work on a larger version of your image. I also noticed that the editing controls work when you are in the Library module. I reserve judgment at the moment on whether this is a good thing.
Beyond editing, another area where the Loupedeck will greatly improve efficiency is in rating images. You have dedicated controls for star, color, and flag ratings, all combining to make image selection a breeze.
I have not extensively tried the Loupedeck in Photoshop yet, but I am considering purchasing an overlay as the PS tools are very different from the LR ones.
In Use For Video
Again, in a word, excellent. With the caveat, I needed to set up the Final Cut Profile from scratch.
Once I had molded the profile to my needs, it dramatically improved how I edited the video in Final Cut. The large control dial on the Loupedeck works perfectly as a jog wheel, allowing you to scroll forward and backward through the video timeline. I have dedicated In and Out buttons as well as keys dedicated to stepping forward/backward by one frame or by one clip. Editing my latest vlog has become much, much easier with the Loupedeck.
However, there is some more setting up required. The dedicated HSL dials from Lightroom do not work in the basic FCPX profile, requiring me to use a more complicated app workflow and profile. I have not yet set up the Loupedeck for color grading and am not looking forward to doing it. Once done, I am sure it will make grading as efficient as editing.
As mentioned, I have also not set up DaVinci Resolve yet. This is the editing program that I grade my stock video clips in, and as such, I spend a lot of time in it. I will need to devote some time to getting that set up correctly.
Brilliant But Slightly Flawed
I have no regrets about purchasing the Loupedeck Plus; it will undoubtedly improve my editing workflows for both stills and video. The build quality was of concern, but those have melted away with use. The clunky setup for anything other than Lightroom is an issue. I asked Loupedeck about this, and they said that they had only recently introduced profiles for other apps, and their engineers are working on getting them fully integrated.
Overall, if you spend a lot of time editing your computer, Loupedeck is something I can recommend.
Further Reading: